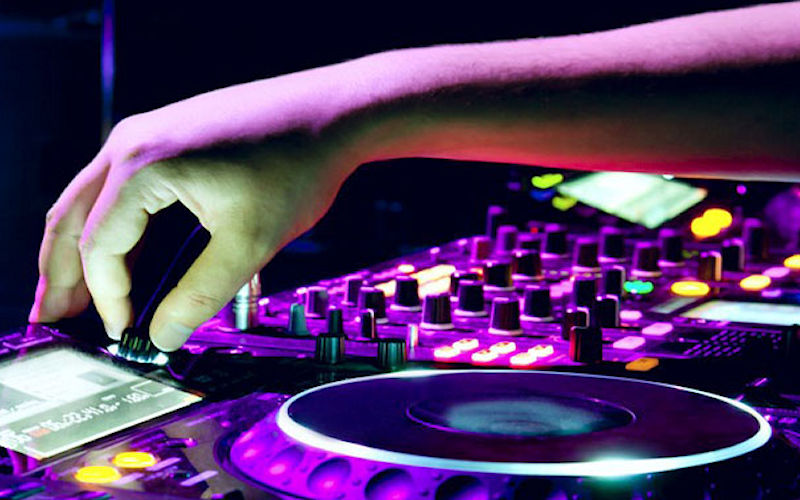 What "does" make a DJ great?
Over the past 30 years, since I started Magically Yours DJs, I've found that most other DJs don't put in half the effort that I do. Not to toot my own horn, ok, I am, but c'mon, you never meet the DJ until the day of your wedding? No way! I pledged when I got married, the first time, to my late wife, Eleni P. Vafias, I could do a better job of performing than the DJ did at our wedding and I made sure of it.
Magically Yours DJs was born. In the Fall of 1989, I started the company with the record albums I had collected over the years and the growing CD library, complete with jewel cases, that I was starting. I didn't have the professional equipment I do now, but hey, it sounded good and no one complained. Actually, I've never got a complaint from a client about the sound my equipment put out.
Its amazing to think how I started; a pair of Realistic MACH II's, two Direct Drive professional turntables, a CD player, Radio Shack mixer and a borrowed amplifier from another DJ that I shadowed with for a couple of gigs. Over the years, my logo evolved, my saying changed from, "…Let us Make Your Event a Magical One…" to "Let Us Show You Our Magic™". I remember copying my brochures at Kinko's before a wedding show and arriving a couple hours late. That was my first wedding show. I didn't have fancy brochures, presentation boards or anything of the like, all I had was me, my late wife and my trumpets, which I prominently displayed on the table.
I must've impressed a number of people because I secured about 5 shows over that year. Time moves on, you get older, things change and technology makes the DJ completely digital. So you say, "…hell, I can DJ, all I need is a computer, my MP3s that I download and windows media player or some other jukebox software…" Stop right there… Being a DJ takes more than just that. You have to have the personality, the drive and desire to bring joy into other people's lives.
That's what I pledged to do. Customer Service became job one for me and my fledgling company. I said I'd never charge for appointments and I never did; I would and still do today, go to the home of the Bride and/or Groom at their convenience, even if they don't book with me, to show them I'll go that extra mile; I'll even get your booze for you! LOL… seriously, For one of the first weddings I did out of state in 1991, at Davis and Elkins College in West Virginia, still in the military, I went to the package store and saved a bunch of money for the bride and groom and carted it to WV for them.
Shhh. We don't want the Navy to know what I did. Hell, it's in the past, but basically I will go the extra mile for my clients. I love to put together my shows, yes, I call them shows, like they were a broadway production. The wedding goes down once and it must go down right. That's been my mantra for 20 years now. Being that I'm a professionally trained Navy musician, I put the same dedication and devotion into my shows that I would if it was for the President of the United States. You've got to LOVE what you do and I truly love making people smile, seeing them afterwards and telling me how wonderful their event was; how much I helped make it a success. That's when I know my job is done!
Music is something I have a passion and dedication for and it shows with my DJ business. Its not about the money, it's about the people. Its about the bride and groom, not the DJ. The DJ is one of many players in an event and should never be so obnoxious that s/he takes over and overpowers the event.
So what really makes a DJ a GREAT DJ? Let's have a look at my take on this topic.
Caring for the customer more than yourself
Going that extra mile
Don't drink or smoke while performing (That's just me…)
Don't hit on the guests; it's just bad business and makes you look bad
Make the event the best it can be
Showing up on time and be ready
Have a backup system just-in-case… you know insurance
Be well groomed and clean
Be attentive to the needs of others
Be ready to change the schedule at a moments notice
Have a preprinted schedule in-hand ready to go for you and other vendors
Be on-time for specific events throughout the evening
Have a commanding microphone presence – speak distinctly
Dress in the uniform of the day; your business suit; preferably a tuxedo unless it's a casual event then dress appropriately
Be relaxed
Don't bug the bride with every little detail(s)
Don't beg for food; if it's offered thank the host and hostess – it should've been prearranged anyway
Play appropriate music not what someone brings to you on a CD or iPod – One of the worse things you can do is play a song you've never heard before and find out its explicit. It just looks bad for the DJ
Thank the Bride and Groom, when it's appropriate, after the event for allowing you the privilege of performing at their wedding
Send out thank you notes! Handwrite them, don't use your computer. It's more personal and they'll remember you
These are some of the things that I have used and still use today. I probably care more about the success of the event than most DJs. Not putting down other companies, but I have my own set of work ethics and I can't trust anyone else to do what I do. That's why there's only one DJ in my company; me.
I'll work with my clients every step of the way, insuring that they are completely relaxed and comfortable with me and my services. It's their special day, not mine, I'm the catalyst that helps makes the event, part of the many players that are there to support the bride and groom. It's important to remember who you're working for and the result you want to achieve.
DJ etiquette, DJ presence
|
Posted by Magically Yours DJs